We are utilizing the Weidner Center for the Performing Arts and Theatre Hall for one-acts, but also may utilize some classrooms in Studio Arts for other festival programming.

During your homeroom/prep time, a UWGB liaison will meet with you to discuss specific needs. Be prepared at this time to start the cueing process to utilize staff and equipment to the fullest, but do not go to the control booth prior to your set up time since another school will be using the booth. Your liaison will ensure you get to stage and will be on-hand to answer all questions pertaining to technical needs during your set-up time.
Assignment of space is based on: (a). scenery needs and (b). size of cast/crew. We only have so many time slots available in the various spaces, so schools should have the flexibility to assemble scenery on stage for smaller venues.
Load in is on the east side of Theatre Hall, off of University Union Court
Unload through the scene shop loading door, starting 1 hour before performance
UWGB students will be there to show you to your homeroom after your set is in the shop
Lighting and sound technicians will receive their orientation 15 minutes before performance
Performers and set crew will enter the stage area with their set when instructed at the beginning of the performance time
The entrance to the stage from the shop is in the upstage center wall
The door between the shop and the stage is the time line
After your performance strike all scenery through the stage loading door, which is in the stage left wall
The stage loading door is the exit time line
Both loading doors are at street level
Both loading doors are accessed from the same parking lot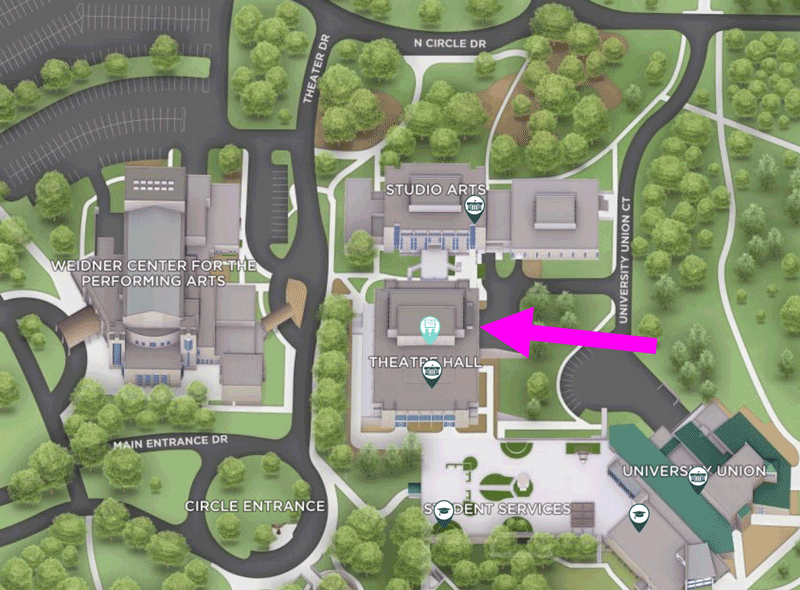 Load in for Cofrin Family Hall is via three loading docks at truck height or through the stage door at ground level, Docks are accessible from North Circle Drive and the stage door is off of Weidner Center Drive.