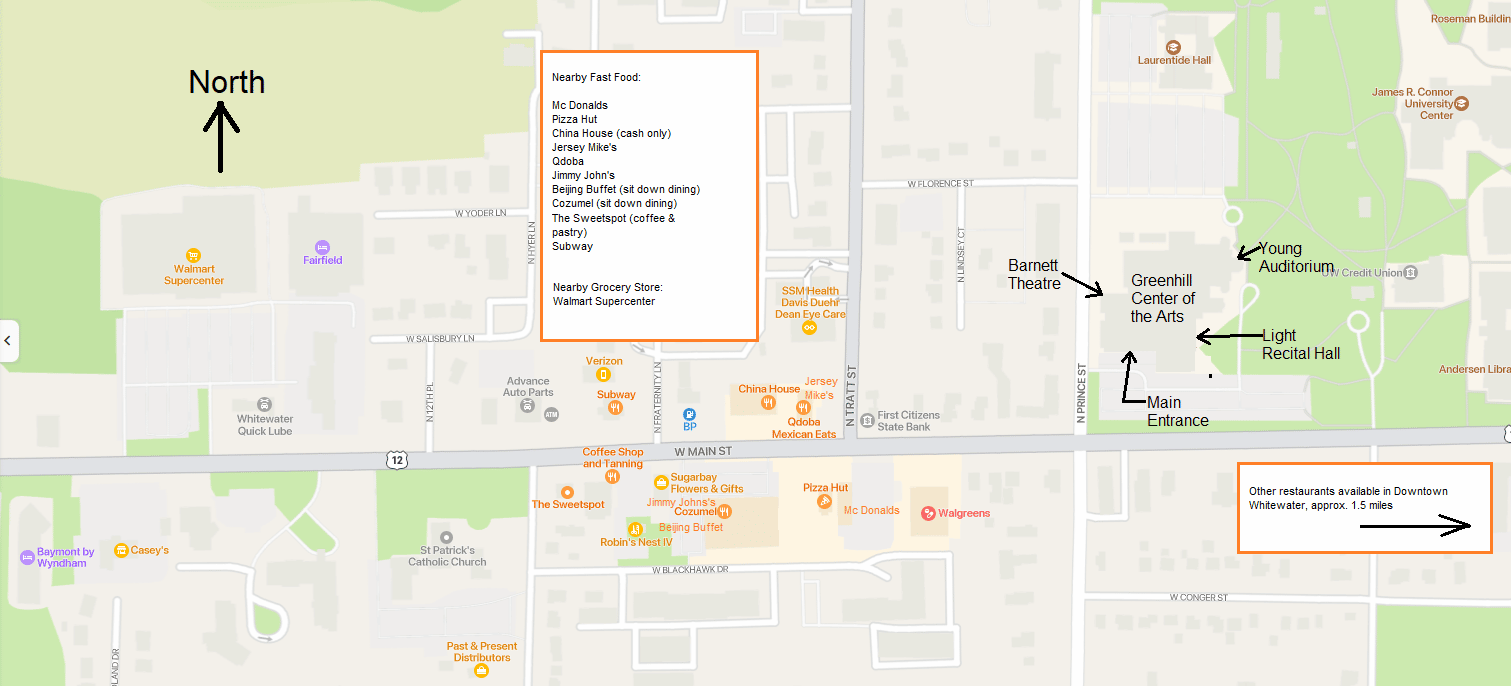 There is a one handicap-accessible restroom and two all-gender restrooms in the Greenhill Center of the Arts/Young Auditorium: 0065 and 0155. Click the "all-gender" link above for a complete map/listing of 33 all-gender restrooms on campus. Follow signage in the Fine Arts Center.
Visitors may connect to the UWWGuest wireless network. Connect your device to the wireless network. To register with this network open a web browser, navigate to a website and complete the prompts.
Prices quoted were for fall 2022.
Prices listed are guides, and not guarantees. The best advice from hotels is to call, ask for sales and see what the best price is and what they might be able to do for you. If you are able to reserve a block of rooms, you will be able to negotiate an even lower price. Be sure to mention that you are tax exempt, and in some cases, it will help to mention that (if you are a public school) you would qualify for the state government rate. The sooner you are able to book, the better your rates will be.
Amenities Included. Bus parking may be offered at properties where not noted.
| | | | | | | | | |
| --- | --- | --- | --- | --- | --- | --- | --- | --- |
| Hot Breakfast | Continental Breakfast | Free WiFi | Exercise Facilities | Swimming Pool | Hot Tub | Free Parking | Bus Parking | Kitchenette |
| Hotel Name | Phone | Included | Rate | Notes | Location |
| --- | --- | --- | --- | --- | --- |
| Baymont by Wyndham | 262-472-9400 | | $89+ | | Whitewater |
| Fairfield Inn & Suites | 262-458-2065 | | $134+ | | Whitewater |
| Super 8 by Wyndham | 262-472-0400 | | $89+ | Sold out? | Whitewater |
| Villa Inn Motel | 920-568-4552 | | $75+ | | Fort Atkinson |
| Quality Inn & Suites | 920-563-6444 | | $94+ | | Fort Atkinson |
| Country Inn & Suites | 920-542-1600 | | $127+ | | Fort Atkinson |
| Holiday Inn Express & Suites | 920-563-3600 | | $134+ | | Fort Atkinson |
| Quality Inn | 608-884-2118 | | $85+ | | Edgerton |