Thank you for agreeing to work a WISDAA contest/workshop. We are required to follow new guidelines due to state and federal regulations for paying contractors.
Log into the WISDAA website at https://www.wisdaa.org/account/ (you may need to create an account if you haven't logged in since the site was reset in September of 2020; otherwise, you can have the site reset a password).
Once you log in, you will see a user icon/avatar next to the WISDAA logo. Hover your mouse over it, and from the "Tools" menu, select "Vendors/Contractors."
Then click the gold button, [Register as Vendor/Contractor], which brings you to a form that will effectively complete your federal W-9 information. If you've already contracted for another WISDAA contest this year, you do not need to complete this form again. However, you DO need to complete the form in Step 4 for EACH contest you work.
Once you complete the registration form, you then must return to the same page, and click the gold button, [Apply/Contract for Events], and complete the form indicating the event you are working.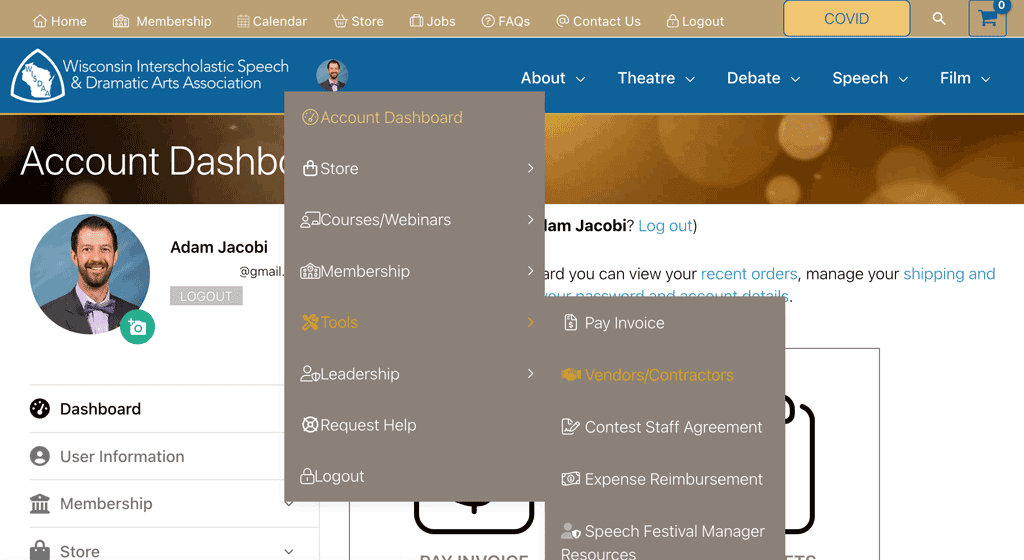 YOU MUST COMPLETE BOTH FORMS TO BE PAID.
Please email help@wisdaa.org for assistance with any part of this process.