Assignment of space is based on: (a). scenery needs and (b). size of cast/crew. We only have so many time slots available in the various spaces, so schools should have the flexibility to assemble scenery on stage for smaller venues.
During your homeroom/prep time, a UWW liaison will meet with you to discuss specific needs. Be prepared at this time to start the cueing process to utilize staff and equipment to the fullest, but do not go to the control booth prior to your set up time since another school will be using the booth. Your liaison will ensure you get to stage and will be on-hand to answer all questions pertaining to technical needs during your set-up time.
Venue-UWW-Barnett Theatre
Venue-UWW-Light Recital Hall
Recital Hall Photo Gallery
Backstage storage is limited to one show's scenery at a time (the next show "on deck" while the current show is performing). Your UWW Host will help direct you.
Barnett
Load-in for Barnett is through the loading dock doors on the northwest side of the building; as your show concludes, you must immediately load-out through the shop loading dock.
Recital Hall
Load-in for the Recital Hall is is on the east side of the Center for the Arts, next to the Young Auditorium. There are double doors that limit size of scenery being brought into this space; as your show concludes, you must immediately load-out through the double-doors, upstage right, and back out through the east entrance.
Traffic & Parking
Greenhill Center of the Arts at UW-Whitewater is located at 950 W Main St, Whitewater.

Bus drop-off will be in Lot 2 (north of Center for the Arts), accessible from N. Prince St. Bus parking is available in Lot 25 (adjacent to the Community Engagement Center), accessible from W. Main St. (Old Hwy 12).

Trucks may park in lot 25 along with buses.

Standard vehicle parking is available in Lot 2.
Watch this space for details on what food/meal options will be available.
There is a one handicap-accessible restroom. Follow signage in the Fine Arts Center.
Visitors may connect to the UWWGuest wireless network.
Connect your device to the wireless network. To register with this network open a web browser, navigate to a website and complete the prompts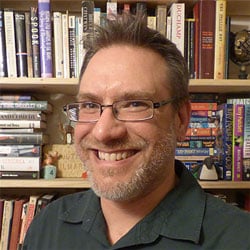 Eric Appleton
Host Venue Coordinator (he, his, him)
Eric Appleton is the associate professor of scenic and lighting design in the Theatre/Dance Department. Courses taught include Introduction to Theatre, Introduction to Theatrical Design, Period Decor and Styles, Advanced Design Seminar, Design II for Scenery and Lighting, and independent studies in Scenic Painting. In 2019 he traveled with Theatre Gigante to Slovenia as lighting designer and stage manager to remount their production of Tarzan in the cities of Kranj and Ptuj. In addition to his professional freelance work in theatre production, Professor Appleton is a published playwright and textbook author. Visit his full biography at UWW >>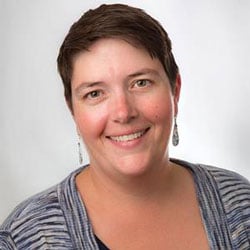 Ruth Conrad-Proulx
Technical Director (she, her, hers)
Ruth Conrad-Proulx has been a professional theatre production manager and technical director producing in theatrical venues and in classrooms teachings for the past 20 year. At the UW-Whitewater Professor Conrad-Proulx oversees the Stage Management program in the Theatre/Dance Department as well as running the Scene Shop, the Electrics Shop and the Sound Shop and a variety of practicum labs. She also teaches Technical Direction, Production Stage Management, Introduction to Technical Theatre, Theatre Appreciation and World of the Arts in addition to mentoring students through design for many areas on stage. Visit her full biography at UWW >>