Courses on leave for the summer
Access to courses will resume by mid-autumn, once the WHSFA Board addresses any potential rules changes for the new school year.
If you had a website account prior to fall 2020, please
sign up for a new account when enrolling in a course
. Certification lasts
3 school years
(inclusive of the school year you certified).
Interscholastic Speech contests involve subjective and standards-based evaluation of students across more than a dozen contest categories. Coaches and/or adjudicators (judges) gain certification through training, and can report time spent as professional development.
Speech Adjudicator FAQs
How do I get certified to adjudicate (judge) Speech contests?
Initially, you pay for and enroll in an online course that takes about 2 hours, followed by a 3-hour live online workshop, culminating with an assessed evaluation of a student presentation. Provided the assessment has been completed successfully, certification lasts 3 years, inclusive of the school year of enrollment.  Certification can be renewed upon successful completion of a brief renewal course and assessment. Learn more at our adjudication page.
How do I renew certification to adjudicate (judge) Speech contests?
You will pay for and enroll in an online course that takes about 30 minutes, plus evaluating a student presentation. Upon successful completion of the course and evaluation, certification will be renewed. To learn more, visit our adjudication page.
My speech adjudicator certification lapsed. Which course do I enroll in?
Do you have a list of descriptive words/phrases adjudicators can use?
Speech Adjudicator Word Bank
How many Speech adjudicators am I required to have?
Generally speaking, contests ask for one adjudicator for every five entries, or fraction thereof. Some contests require fewer or more. This means that if a school has 7 entries, it should bring two adjudicators. Some contests will allow schools to pay a fee for uncovered adjudicators, not because they have extras they can hire for a school, but to incentivize schools to bring their own adjudicators. It is a burden on any host when schools do not provide all of the adjudicators they are expected to. The State Festival requires one adjudicator for 1-8 entries, two adjudicators for 9-19 entries, and three adjudicators for 20-25 entries.
How do I get hired to adjudicate/judge?
How do I register a complaint about an adjudicator?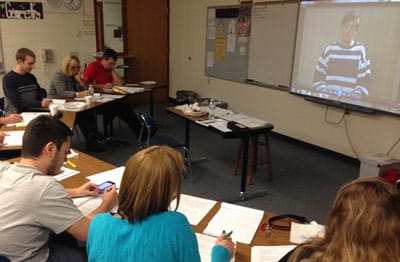 Initial Training Workshops
Live (synchronous) videoconference workshops are offered in December, January, and early February for the Initial Training Course. Registration (and subsequent access to the videoconference) happens within the course, after a participant has completed about 2 hours of online, asynchronous content.
A list of dates appears below; individuals will be able to register for the workshops once they complete the ~2 hours of online coursework.